Location
Newry Road
Omeath
Telephone
042 937 5116
Facsimile
042 937 5123
Email
info@parkhotelomeath.com
Owners
Corporate Solutions
Operators
Yvonne Ellard
Credit Cards
Visa, Laser, Mastercard
Price Guide
€€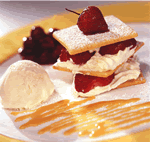 The Park Country House Hotel
This delightful hotel nestles at the top of an avenue on a hill overlooking the Lough and mountains just outside Omeath itself. The elegant Watercress Restaurant serves modern Irish fayre in the evenings and high standard bar food during the day. Starters include a Thai beef salad or baked goat cheese for around €8.00 and mains can be a Confit of duck at €21.50 or seared fillet of salmon at €17.00. Local Cooley lamb and seafood feature prominently too. The lunchtime menu has light snacks like a Caesar salad at €7.50 and an open prawn and smoked salmon sandwich on brown bread at €9.50. For main courses a steak sandwich is €11.50, roasted mediterranean vegetable tart is €9.50 and an excellent Bangers and mash with an onion gravy is €9.50. Desserts like a very good tarte tatin is €4.50 and a glass of house white wine is €5.00. There are conference and function rooms as well and the bedrooms cost €55.00 for a single and €75.00 per person for a double. The atmosphere throughout is welcoming and very professional complementing thoroughly the high standards of food be it lunch or dinner.