Location
Market Square
Carlingford
Bistro
042 937 3989
Accommodation
042 937 3922
Operators
Brian & Denise McKevitt (Accommodation)
Linda & John Brennan
(Bistro)
Credit Cards
Visa, Laser, Mastercard
Price Guide
€€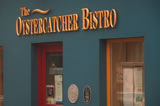 The Oystercatcher Lodge & Bistro
A long established restaurant of high regard in the centre of the village opposite the hotel. Formerly a dairy and a pub this is a family style bistro in the true sense of the word with lovely blue and yellow tones with some maritime influences and warm homely decor. The place serves all that is best from the locality, notably the esteemed Gigas or Rock oysters from the Lough, widely regarded as the best in Ireland. Seafood specials of the day, like generous fresh scampi, are always tempting at around €25.00 and worth every cent with fresh potatoes and vegetables included. The food, not all fish incidentally, is unpretentious, just simple, tasty and traditional a la carte dishes done correctly and served with a friendly and professional manner. It is not open for lunch and closed Monday to Wednesday off-season so booking is recommended. No service charge. A glass of house wine is €4.00. There is also a private function room for parties. The seven guest-rooms are upstairs, at €55.00 for a single and €65.00 per person sharing for a double, are both comfortable and spacious and of good hotel standard.