Location
Newry Street
Carlingford
Telephone
042 938 3848
Owners
Stephano &
Pasqualina Marinucci
Operators
Stephano &
Pasqualina Marinucci
Credit Cards
All accepted
Price Guide
€€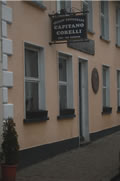 Capitano Corelli Restaurant
This serious Italian ristorante could easily be mistaken for being in a little backstreet of Rome, not only is the decor and welcome truly Italian but the food and nearly 70 dishes at that is as genuine as you will find anywhere outside of Italy. The passion and dedication of the owners is displayed as much on the plate as it is in their characters. With 15 starters, over 20 pastas and 22 main courses, there is something for everybody's taste here. Prices range from €6.50 for a Bruschetta, €12.00 for a pasta carbonara, €19.00 for a veal scaloppina and €22.50 for a Frutti di mare, using all the fresh seafood from the area. Another important factor is the loyalty to authenticity, with style retaining its regional identity, with fresh homemade ravioli being made each morning no greater testament to customer service can be shown. This loyalty is further demonstrated with the comprehensive wine list being exclusively Italian. Desserts include the Italian classics like a proper Tiramisu or "pick me up", their own alcohol laced trifle that is sure to give you an end of meal hit.