Location
Market Square
Carlingford
Telephone
042 937 3116
Facsimile
042 937 3144
Email
villagehotel@eircom.net
Owners
Terry McKevitt
Operators
Terry McKevitt
Credit Cards
all accepted
Price Guide
€€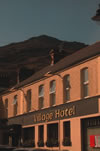 McKevitt's Village Hotel
This Hotel has been family run by the McKevittÕs for six generations. A quality two star hotel, it is synonymous with fine, wholesome, traditional food and hospitality. At lunchtime the cosy bar offers main courses of the day at around €10.00 or in the more refined "Schooners Bistro"in the evening, quality fayre and service is assured. Local ingredients, fresh Carlingford seafood and the famous Cooley lamb, are prominent, the cooking is skilled, all homemade and the presentation polished. The spectacular and tasty seafood chowder, a meal in itself, is second to none, the early bird too at night is very good value at just €19.50. Bistro starters like fresh crab cakes with a herb sauce are around €7.00 and main courses like fillet of hake with rosti potato crust and tomato tarragon sauce and stuffed fillet of pork with celeriac mash and port wine sauce are in the €20.00 range. No service charges. The hotel has seventeen rooms, singles at €85.00, doubles, per person sharing at €80.00 per night with breakfasts. Special over aged 55 and children's rates. The function room seats up to 200.