Location
Market Square
Carlingford
Telephone
042 937 3418
Facsimile
042 938 3964
Email
sharonmcguigan@eircom.net
Owners
Sharon McGuigan
Operators
Sharon McGuigan
Credit Cards
Laser, Visa, Mastercard
Price Guide
€€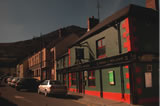 The Carlingford Arms
This centrally located bar and restaurant serves traditional and carefully prepared lunch and evening a la carte meals. The emphasis is on locally sourced quality ingredients of meat and fish. The lunchtime specials are from €10.00 and in the evening starters like the half dozen oysters from €7.50 or fresh prawn cocktail from €9.95. Main courses include a good range of five chicken dishes like Maryland or Kiev from just €14.95, plenty of seafood options of course, steaks, grills, vegetarian choices, interesting salads and with children especially catered for a full range available for the under 12's. The lunchtime menu also has good value starters like a seafood salad from €7.50 and minute steak from €15.95. The a la carte specials are excellent value like a substantial surf and turf consisting of fillet steak and fresh prawns from just €21.95. The desserts like a fresh fruit pavlova are €5.70. The pub has a real old time atmosphere to it, really oozing charm and character and there are regular traditional and lively music nights when the true Irish "craic"can be experienced. The function room can seat over 100 and the service is friendly and relaxed both in the restaurant and the bar.